The latest news from the Maricopa Community Colleges Foundation
Foundation Update
October 2019
Welcome to the October edition of Foundation Update, featuring stories that highlight the work of the Maricopa Community Colleges Foundation in collaboration with the 10 Maricopa Community Colleges, our Foundation Board, donors and community partners.
This month, along with some great stories, we ask you to save the date for the 15th anniversary Heroes of Education Recognition Dinner, scheduled for April 8, 2020. This year's event entitled, Partnering for Workforce Success, will be a thrilling evening honoring our recipients David Adame and State Farm, and will focus upon workforce development and celebrating the commitment of those who support higher education and student success. I'm so excited at the caliber of support we have, the involvement of our Recognition Dinner Committee and the generosity of our many event sponsors.

As always, thank you for your passion and support of our vision that everyone has the opportunity to improve lives through education and we appreciate your continued trust.
Brian F. Spicker
Interim President and CEO, Maricopa Community Colleges Foundation
We make postsecondary education accessible and affordable.
Individual Hero of Education Honoree
David Adame,
President and CEO of Chicanos Por La Causa, Inc.
Recognized for his longtime commitment to education and empowering students.
Corporate Hero of Education Honoree
State Farm
Recognized for their continued generosity in providing numerous scholarships and programs across the Maricopa Community Colleges District.
Partnership With S.E.E.4VETS Expands STEM Studies
Since 2015, S.E.E.4VETS, has donated over $60,000 to the Maricopa Community Colleges Foundation, making STEM education and various programs easily accessible for more than 120 veteran students, at several Maricopa Community College campuses.

Today, a new fund is being developed to support GateWay Community College(GWCC), launching a STEM focused Academic Advisor pilot program specific to the Veteran Services Center, utilizing academic advisement, case management and school certifying roles, helping veterans navigate education benefits, external resources and student support services. The associate degree path to university and workforce transfer will be emphasized and students will be guided to apply for a STEM scholarship.
"GWCC's effort to facilitate their Veterans' transition from military life to successful academic accomplishment is impressive and worthy of our support. Experience has shown that the dedicated counseling of a professional produces positive results. Further, incentivizing students to participate in STEM courses of study is timely and encouraging. S.E.E.4VETS is proud to support such exemplary efforts," said Jim Symonds, Rear Admiral, USN (Ret.) & S.E.E.4VETS Board of Director.
S.E.E.4VETS Board Member Mica R. Endsley, PhD, President SA Technologies added, "A workforce that is trained in STEM is vital to the future global competitiveness of US corporations. Further, workers in STEM have double the job security of the non-STEM workforce and typically earn 26% more. GWCC's new program to advance STEM education plays a vital role in supporting the needs of veterans, a strong business climate, and United States competitiveness.
To contribute to a S.E.E.4VETS fund at the Maricopa Community Colleges Foundation, click here and designate S.E.E.4VETS. To read more about S.E.E.4VETS, and how they support and encourage veterans to complete their education, visit see4vets.org.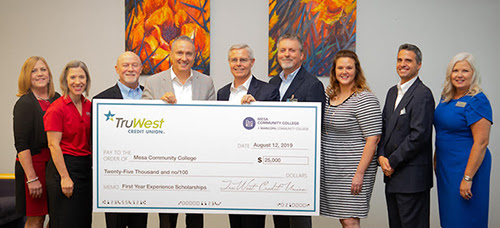 TrueWest Credit Union
Supports Financial Literacy
TruWest® Credit Union and Mesa Community College (MCC) are excited to announce their partnership to support success in higher education and financial literacy of students. The Tempe-based credit union has donated $25,000 to the MCC First Year Experience program, providing scholarships to first-generation college students, and will teach financial literacy classes this fall.
"Helping students achieve their educational and financial goals is extremely important to us at TruWest," said President and CEO of TruWest Credit Union Alan Althouse. "We believe in what the First Year Experience offers participants and are proud to support MCC as they develop these students' skills. This is only the beginning of TruWest and MCC making an impact together."
The MCC First Year Experience is a year-long college program focused on providing first-year students with the services and support needed to successfully transition to college. Participants must have attended one of six high schools in the Mesa Public Schools system and come from a family where neither parent earned a bachelor's degree.
Along with monetary support for MCC students, TruWest representatives will deliver two financial literacy trainings for program participants and their parents and have committed to sponsoring the college's food pantry and clothing closet.
"It is tremendous that TruWest wants to provide scholarships for First Year Experience students. However, they wanted to do more." said Dr. Richard J. Haney, MCC president. "TruWest is also giving of its time and expertise to help teach financial literacy and it plans to help stock shelves in the Mesa Market, our student food pantry, and aid in the development of a space usable for the college to establish a clothing closet so students may 'dress to impress' for job interviews."
To find out more about how to support student success, click here. Learn more about the MCC First Year Experience program at mesacc.edu/students/foundations-student-success/first-year-experience. For more information about TruWest Credit Union, visit truwest.org.
Foundation Quarterly Grant Activity
Awarded

Walmart Foundation

SRP-MIC

Pending

AZ Diamondbacks Foundation

AZ Coyotes Foundation

City of Mesa

Nationwide Foundation

Verizon Foundation

Del E. Webb Foundation

DECA Foundation

The Kemper and Ethel Marley Foundation

The Coalition for Public Safety

Applied/Not Awarded

Bernard & Audre Rapoport Foundation

Brady Shines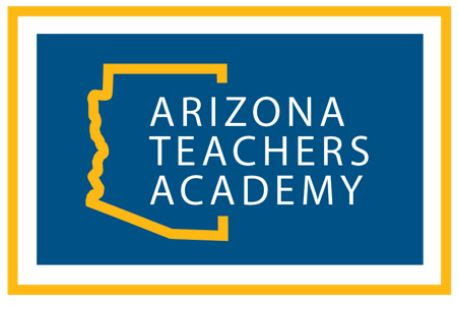 Arizona Teachers Academy Redefines Education
To address the teacher shortage in Arizona, the Arizona Teachers Academy provides Maricopa Community College students a year-for-year scholarship that covers students' tuition in exchange for their commitment to teach in AZ after graduation.
By partnering with the Arizona Teachers Academy, at Scottsdale Community College and Rio Salado College, the Maricopa Community Colleges is working to bring more teachers to the Arizona schools that struggle to hire and retain teachers, particularly in low-income and rural areas.
Click here to watch a short video to learn more about the program and to hear student testimonials. To read more about Arizona Teachers Academy and the programs at each college, click here.
Student Turns Love of Animals Into
A Career Of Helping People
Scottsdale Community College (SCC) student Gina Lemmon's goal is to one day work in a nonprofit setting with horses and the disabled community, doing equine assisted therapies. That's why this busy student is working towards her Equine Science Degree, in addition to earning an Associate of Arts Degree. "I have a strong love of horses and all animals, but also a strong love for helping people," she said. "I realize that education must happen first, so scholarships give me the ability to focus on my studies to pursue my dreams."
To enhance Gina's studies, Gina had the opportunity through SCC's Equine Science Program for an internship with Camelot Therapeutic Horsemanship in which she was able to work with both physically and mentally disabled people and as she said, "understand the power that a horse has to change a person's life."
Gina plans on going to ASU after graduating in May 2020, to obtain a Nonprofit Leadership and Management degree, while also obtaining a minor in recreational therapies. To read more about Gina, click here.
Support Post Secondary Education Through Establishing An Endowment
Endowed Funds are permanent and make awards in perpetuity through investment earnings. The minimum amount required to establish an endowed scholarship or program fund is $10,000.
Endowments that have recently been established include:
*Phoenix College ESL 100 for 100 Scholarship and Program Fund
*Thunderbird Field II Veterans Memorial Aviation Scholarship Program
*Jacqueline Marschel Scholarship
To learn more about establishing an endowment, click here.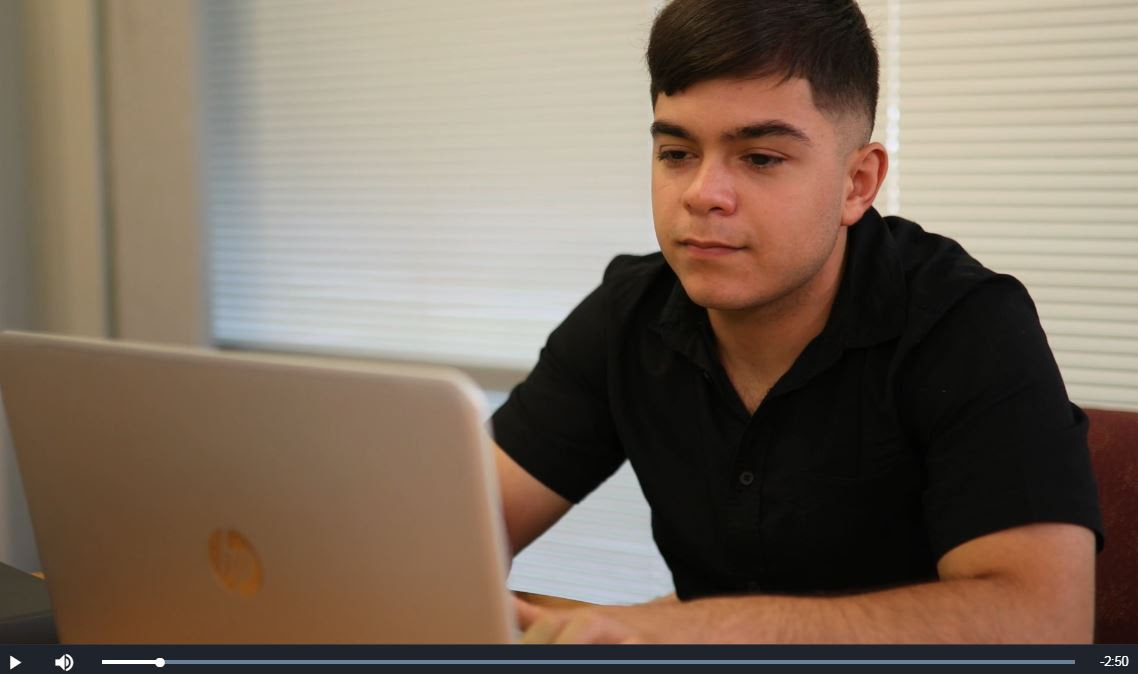 Video and Other Outreach Efforts Help To Increase
Spring Semester Scholarship Applications
Navigating through the application process has never been easier, thanks to a new video currently in production by the Maricopa Community Colleges Foundation, utilizing the services of Glendale Community College (GCC) student Ryan Tran who is enrolled in GCC's Digital Cinema Arts Program. Assisting Ryan are, students Dylan Suarez and Kent Capones, who will also be entering the program.
"Our main goal for this video is to provide students with an overview of how the scholarship application system works," said Karley Mellberg, Scholarship and Donor Relations Manager. "Additionally, the video will also be used by college advisors at high schools and in our financial aid offices, during scholarship workshops. It is an added plus is that we are able to work with one of our students to accomplish this."
The video is just one of many new outreach efforts that the scholarship department is using to increase the visibility of scholarships, and so far, we have seen a 74% increase in applications over last year. Other efforts include distribution of flyers at campuses and online to high school families, increased social media presence, and more involvement with the individual colleges and development officers.
To learn more about Foundation scholarships, click here.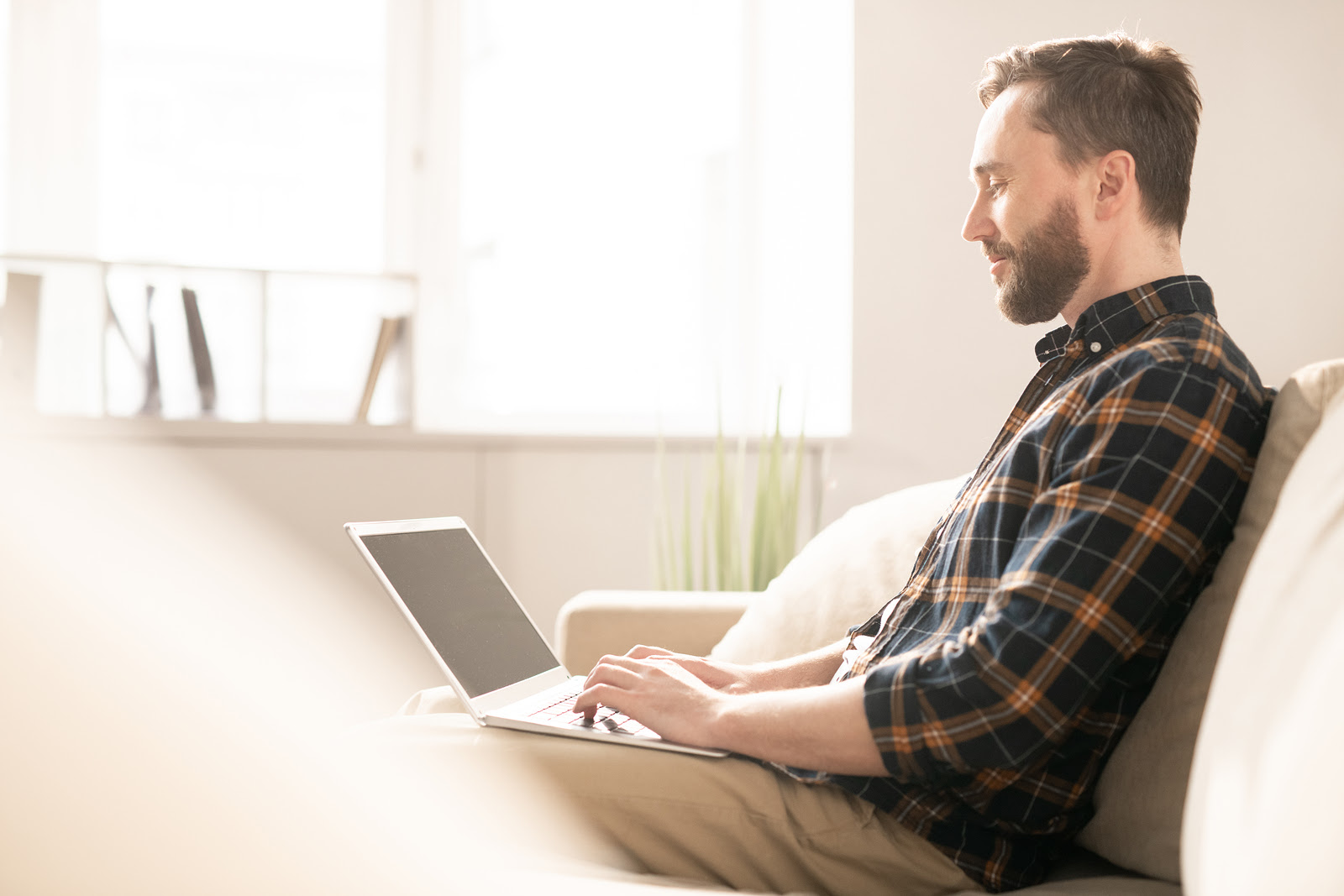 Scholarship Reviewers Needed:
A Short Commitment Makes Huge Impact
Just a few hours, can make a huge difference in the life of a student seeking a post-secondary education. That is why we are currently asking for volunteer scholarship reviewers.
As a scholarship reviewer, you will be assigned approximately 30 student applications, which would result in a commitment of about two to three hours per review cycle. Our review cycles take place three times a year during the months of March, June, and October. Applicants are scored on three essay questions describing their personal goals, financial needs, and leadership skills. You will be able to access the applications online from any computer so you can score at your convenience.
How do you sign up?
It's easy! Simply fill out a volunteer interest form.
Thank you for considering this opportunity. Your participation as a scholarship reviewer is yet another great way to make a direct and positive impact on students who submit their scholarship applications and share their stories, in hopes of funding their college aspirations.
Be sure to add our email address to your address book or safe senders list so our emails get to your inbox.
The Maricopa Community Colleges Foundation respects your online time and privacy. Please let us know which types of electronic communications you wish to receive from us by visiting our subscription center. If you no longer wish to receive email messages from The Maricopa Community Colleges Foundation, please click the unsubscribe link below.
2419 West 14th Street, Tempe, AZ 85281-6941