Fundraising Effort Exceeds Goal Raising $168,680 In Support Of Students In Need
Donations have exceeded expectations. In our latest fundraising effort, the Foundation asked for $100,000 and through individuals and our community partners  $168,680 was raised. Along with our students, we could not be more grateful.
The generosity of our community has helped to provide basic needs such as food, rent, utilities, transportation and technology to students who are struggling across the entire Maricopa Community College District, as a result of the hardships they face due to COVID-19. Now, because of our supporters, they can stay enrolled in school and are able to finish their educational journey.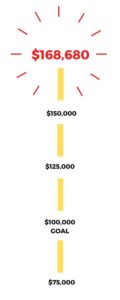 What we've achieved together is truly helping our students, staff and all ten of the Maricopa Community Colleges during these difficult times.  Thank you for your continued support.